April 26, 2017
In this month, April 2017 , Microsoft has published forty four vulnerabilities in which around thirteen vulnerabilities are rated as critical.  While classifying the vulnerabilities based on their severity, the medium rated vulnerabilities are much higher than high rated vulnerabilities.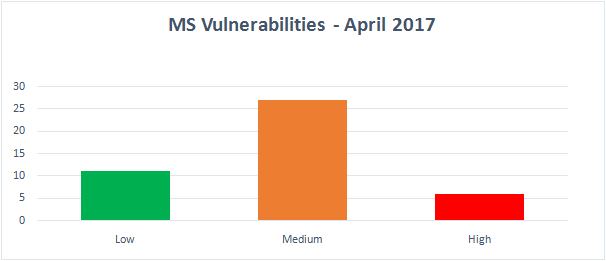 Another important classification is based on their exploitability, we found that remotely exploited vulnerabilities are higher than the locally exploitable ones. 




While classifying vulnerabilities based on authentication which is similar to the previous month, the vulnerabilities that require authentication are much higher compared to the vulnerabilities that does not required an authentication.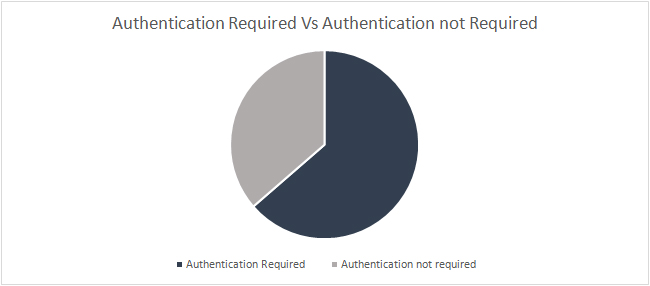 No
CVE Number
Vulnerability Type
Affected Products
1
CVE-2017-0160
Remote Code Execution Vulnerability
Microsoft Windows Vista x64 Edition Service Pack 2 0
Microsoft Windows Vista Service Pack 2 0
Microsoft Windows Server 2016 for x64-based Systems
Microsoft Windows Server 2016
Microsoft Windows Server 2012 R2
Microsoft Windows Server 2012
Microsoft Windows Server 2008 R2 for x64-based Systems SP1
Microsoft Windows Server 2008 R2 for Itanium-based Systems SP1
Microsoft Windows Server 2008 for x64-based Systems SP2
Microsoft Windows Server 2008 for Itanium-based Systems SP2
Microsoft Windows Server 2008 for 32-bit Systems SP2
Microsoft Windows RT 8.1
Microsoft Windows 8.1 for x64-based Systems
Microsoft Windows 8.1 for 32-bit Systems 0
Microsoft Windows 7 for x64-based Systems SP1
Microsoft Windows 7 for 32-bit Systems SP1
Microsoft Windows 10 Version 1607 for x64-based Systems
Microsoft Windows 10 Version 1607 for 32-bit Systems 0
Microsoft Windows 10 version 1511 for x64-based Systems
Microsoft Windows 10 version 1511 for 32-bit Systems
Microsoft Windows 10 for x64-based Systems
Microsoft Windows 10 for 32-bit Systems
Microsoft .NET Framework 4.6.2
Microsoft .NET Framework 4.6.1
Microsoft .NET Framework 3.5.1
Microsoft .NET Framework 4.7
Microsoft .NET Framework 4.6
Microsoft .NET Framework 4.5.2
Microsoft .NET Framework 3.5
Microsoft .NET Framework 2.0 SP2
2
CVE-2017-0162
Remote Code Execution Vulnerability
Microsoft Windows Server 2016
Microsoft Windows Server 2012 R2
Microsoft Windows 8.1 for x64-based Systems
Microsoft Windows 10 version 1703 for x64-based Systems
Microsoft Windows 10 version 1511 for x64-based Systems
Microsoft Windows 10 for x64-based Systems 
3
CVE-2017-0163
Remote  Code Execution Vulnerability

Microsoft Windows Server 2016
Microsoft Windows Server 2012 R2
Microsoft Windows Server 2012
Microsoft Windows Server 2008 R2 for x64-based Systems SP1
Microsoft Windows Server 2008 for x64-based Systems SP2
Microsoft Windows 8.1 for x64-based Systems
Microsoft Windows 7 for x64-based Systems SP1
Microsoft Windows 10 version 1703 for x64-based Systems
Microsoft Windows 10 Version 1607 for x64-based Systems
Microsoft Windows 10 version 1511 for x64-based Systems
Microsoft Windows 10 for x64-based Systems
4
CVE-2017-0180
Remote Code Execution Vulnerability
Microsoft Windows Server 2016
Microsoft Windows Server 2012 R2
Microsoft Windows Server 2012
Microsoft Windows Server 2008 R2 for x64-based Systems SP1
Microsoft Windows Server 2008 for x64-based Systems SP2
Microsoft Windows 8.1 for x64-based Systems
Microsoft Windows 10 version 1703 for x64-based Systems
Microsoft Windows 10 Version 1607 for x64-based Systems
Microsoft Windows 10 version 1511 for x64-based Systems
Microsoft Windows 10 for x64-based Systems
5
CVE-2017-0181
Remote Code Execution

Microsoft Windows Server 2016
Microsoft Windows 10 version 1703 for x64-based Systems
Microsoft Windows 10 Version 1607 for x64-based Systems
Microsoft Windows 10 version 1511 for x64-based Systems
Microsoft Windows 10 for x64-based Systems
6
CVE-2017-0178
Denial of Service Vulnerability
Microsoft Windows Server 2012 R2
Microsoft Windows Server 2016
Microsoft Windows 8.1 for x64-based Systems
Microsoft Windows 10 Version 1607 for x64-based Systems
Microsoft Windows 10 version 1511 for x64-based Systems
Microsoft Windows 10 for x64-based Systems
7
CVE-2017-0179
Denial of Service Vulnerability
Microsoft Windows Server 2012 R2
Microsoft Windows Server 2016
Microsoft Windows 8.1 for x64-based Systems
Microsoft Windows 10 version 1703 for x64-based Systems
Microsoft Windows 10 Version 1607 for x64-based Systems
Microsoft Windows 10 version 1511 for x64-based Systems
Microsoft Windows 10 for x64-based Systems
8
CVE-2017-0182
Denial of Service Vulnerability
Microsoft Windows Server 2012 R2
Microsoft Windows Server 2012
Microsoft Windows Server 2008 R2 for x64-based Systems SP1
Microsoft Windows Server 2016
Microsoft Windows 8.1 for x64-based Systems
Microsoft Windows 7 for x64-based Systems SP1
Microsoft Windows 10 version 1703 for x64-based Systems
Microsoft Windows 10 Version 1607 for x64-based Systems
Microsoft Windows 10 version 1511 for x64-based Systems
Microsoft Windows 10 for x64-based Systems
9
CVE-2017-0183
Denial of Service Vulnerability
Microsoft Windows Server 2012 R2
Microsoft Windows Server 2012
Microsoft Windows Server 2008 R2 for x64-based Systems SP1
Microsoft Windows Server 2016
Microsoft Windows 8.1 for x64-based Systems
Microsoft Windows 7 for x64-based Systems SP1
Microsoft Windows 10 version 1703 for x64-based Systems
Microsoft Windows 10 Version 1607 for x64-based Systems
Microsoft Windows 10 version 1511 for x64-based Systems
Microsoft Windows 10 for x64-based Systems
10
CVE-2017-0184
Denial of Service Vulnerability
Microsoft Windows Server 2012 R2
Microsoft Windows Server 2012
Microsoft Windows Server 2008 R2 for x64-based Systems SP1
Microsoft Windows Server 2008 for x64-based Systems SP2
Microsoft Windows Server 2016
Microsoft Windows 8.1 for x64-based Systems
Microsoft Windows 10 version 1703 for x64-based Systems
Microsoft Windows 10 Version 1607 for x64-based Systems
Microsoft Windows 10 version 1511 for x64-based Systems
Microsoft Windows 10 for x64-based Systems
11
CVE-2017-0185
Denial of Service Vulnerability

Microsoft Windows Server 2012 R2
Microsoft Windows Server 2012
Microsoft Windows Server 2016
Microsoft Windows 8.1 for x64-based Systems
Microsoft Windows 10 version 1703 for x64-based Systems
Microsoft Windows 10 Version 1607 for x64-based Systems
Microsoft Windows 10 version 1511 for x64-based systems
Microsoft Windows 10 for x64-based Systems
12
CVE-2017-0186
(Windows) Denial of Service Vulnerability
Microsoft Windows Server 2012 R2
Microsoft Windows Server 2012
Microsoft Windows Server 2016
Microsoft Windows 8.1 for x64-based Systems
Microsoft Windows 10 version 1703 for x64-based Systems
Microsoft Windows 10 Version 1607 for x64-based Systems
Microsoft Windows 10 version 1511 for x64-based Systems
Microsoft Windows 10 for x64-based Systems
13
CVE-2017-0168
Information Disclosure Vulnerability
Microsoft Windows Server 2012 R2
Microsoft Windows Server 2012
Microsoft Windows Server 2008 R2 for x64-based Systems SP1
Microsoft Windows Server 2008 for x64-based Systems SP2
Microsoft Windows 8.1 for x64-based Systems 0
14
CVE-2017-0169
Information Disclosure Vulnerability
 Microsoft Windows Server 2012 R2
Microsoft Windows Server 2012
Microsoft Windows 8.1 for x64-based Systems
15
CVE-2017-0202
Memory Corruption Vulnerability
 Microsoft Windows 10 for 32-bit Systems
Microsoft Windows 10 for 32-bit Systems
Microsoft Windows 10 for x64-based Systems
Microsoft Windows 10 for x64-based Systems
Microsoft Windows 10 version 1511 for 32-bit Systems
Microsoft Windows 10 version 1511 for 32-bit Systems
Microsoft Windows 10 version 1511 for x64-based Systems
Microsoft Windows 10 version 1511 for x64-based Systems
Microsoft Windows 7 for 32-bit Systems SP1
Microsoft Windows 7 for 32-bit Systems SP1
Microsoft Windows 7 for x64-based Systems SP1
Microsoft Windows 7 for x64-based Systems SP1
Microsoft Windows 8.1 for 32-bit Systems
Microsoft Windows 8.1 for 32-bit Systems
Microsoft Windows 8.1 for x64-based Systems
Microsoft Windows 8.1 for x64-based Systems
Microsoft Windows Rt 8.1 -
Microsoft Windows Rt 8.1 -
Microsoft Windows Server 2008 R2 for Itanium-based Systems SP2
Microsoft Windows Server 2008 R2 for x64-based Systems SP1
Microsoft Windows Server 2008 R2 for x64-based Systems SP1
Microsoft Windows Server 2012 R2 0
Microsoft Windows Server 2012 R2 0
16
CVE-2017-0201
Memory Corruption Vulnerability
Microsoft Windows 7
Microsoft Windows Server 2008 R2
Microsoft Windows Vista SP2
Microsoft Windows Vista SP1
Microsoft Windows Vista x64 Edition SP1
Microsoft Windows Vista x64 Edition 0
Microsoft Internet Explorer 10
Microsoft Windows 8
Microsoft Windows RT 0
Microsoft Windows Server 2012 0
17
CVE-2017-0158
Memory Corruption Vulnerability
 Microsoft Windows Vista x64 Edition SP2
Microsoft Windows Vista SP2
Microsoft Windows Server 2016
Microsoft Windows Server 2012 R2
Microsoft Windows Server 2012
Microsoft Windows Server 2008 R2 for x64-based Systems SP1
Microsoft Windows Server 2008 R2 for Itanium-based Systems SP1
Microsoft Windows Server 2008 for x64-based Systems SP2
Microsoft Windows Server 2008 for Itanium-based Systems SP2
Microsoft Windows Server 2008 for 32-bit Systems SP2
Microsoft Windows RT 8.1
Microsoft Windows Internet Explorer 0
Microsoft Windows 8.1 for 64-bit Systems 0
Microsoft Windows 8.1 for 32-bit Systems 0
Microsoft Windows 7 for x64-based Systems SP1
Microsoft Windows 7 for 32-bit Systems SP1
Microsoft Windows 10 version 1703 for x64-based Systems 0
Microsoft Windows 10 version 1703 for 32-bit Systems 0
Microsoft Windows 10 Version 1607 for x64-based Systems 0
Microsoft Windows 10 Version 1607 for 32-bit Systems 0
Microsoft Windows 10 version 1511 for x64-based Systems 0
Microsoft Windows 10 version 1511 for 32-bit Systems 0
Microsoft Windows 10 for x64-based Systems 0
Microsoft Windows 10 for 32-bit Systems 0
18
CVE-2017-0210
Privilege Escalation Vulnerability 
Microsoft Internet Explorer 11
Microsoft Windows 10
Microsoft Windows 7
Microsoft Windows 8.1
Microsoft Windows Server 2008 R2
Microsoft Internet Explorer 10
Microsoft Windows RT 0
Microsoft Windows Server 2008 R2
Microsoft Windows Server 2012
19
CVE-2017-0205
Memory Corruption Vulnerability
Microsoft Edge
Microsoft Windows 10 for 32-bit Systems
Microsoft Windows 10 for 32-bit Systems
Microsoft Windows 10 for x64-based Systems
Microsoft Windows 10 for x64-based Systems
Microsoft Windows 10 version 1511 for 32-bit Systems
Microsoft Windows 10 version 1511 for 32-bit Systems
Microsoft Windows 10 version 1511 for x64-based Systems
Microsoft Windows 10 version 1511 for x64-based Systems
Microsoft Windows 10 Version 1607 for 32-bit Systems
Microsoft Windows 10 Version 1607 for x64-based Systems
Microsoft Windows Server 2016 for x64-based Systems 
20
CVE-2017-0093
Memory Corruption Vulnerability
Microsoft Edge
Microsoft Windows 10 for 32-bit Systems
Microsoft Windows 10 for 32-bit Systems
Microsoft Windows 10 for x64-based Systems
Microsoft Windows 10 for x64-based Systems
Microsoft Windows 10 version 1511 for 32-bit Systems
Microsoft Windows 10 version 1511 for 32-bit Systems
Microsoft Windows 10 version 1511 for x64-based Systems
Microsoft Windows 10 version 1511 for x64-based Systems
Microsoft Windows 10 Version 1607 for 32-bit Systems
Microsoft Windows 10 Version 1607 for x64-based Systems
Microsoft Windows Server 2016 for x64-based Systems
21
CVE-2017-0200
Memory Corruption Vulnerability
Microsoft Edge
Microsoft Windows 10 for 32-bit Systems
Microsoft Windows 10 for 32-bit Systems
Microsoft Windows 10 for x64-based Systems
Microsoft Windows 10 for x64-based Systems
Microsoft Windows 10 version 1511 for 32-bit Systems
Microsoft Windows 10 version 1511 for 32-bit Systems
Microsoft Windows 10 version 1511 for x64-based Systems
Microsoft Windows 10 version 1511 for x64-based Systems
Microsoft Windows 10 Version 1607 for 32-bit Systems
Microsoft Windows 10 Version 1607 for x64-based Systems
Microsoft Windows Server 2016 for x64-based Systems
22
CVE-2017-0208
Information Disclosure Vulnerability
Microsoft Edge
Microsoft Windows 10 for 32-bit Systems
Microsoft Windows 10 for 32-bit Systems
Microsoft Windows 10 for x64-based Systems
Microsoft Windows 10 for x64-based Systems
Microsoft Windows 10 version 1511 for 32-bit Systems
Microsoft Windows 10 version 1511 for 32-bit Systems
Microsoft Windows 10 version 1511 for x64-based Systems
Microsoft Windows 10 version 1511 for x64-based Systems
Microsoft Windows 10 Version 1607 for 32-bit Systems
Microsoft Windows 10 Version 1607 for x64-based Systems
Microsoft Windows Server 2016 for x64-based Systems
23
CVE-2017-0203
Security Bypass Vulnerability
Microsoft Edge
Microsoft Windows 10 for 32-bit Systems
Microsoft Windows 10 for 32-bit Systems
Microsoft Windows 10 for x64-based Systems
Microsoft Windows 10 for x64-based Systems
Microsoft Windows 10 version 1511 for 32-bit Systems
Microsoft Windows 10 version 1511 for 32-bit Systems
Microsoft Windows 10 version 1511 for x64-based Systems
Microsoft Windows 10 version 1511 for x64-based Systems
Microsoft Windows 10 Version 1607 for 32-bit Systems
Microsoft Windows 10 Version 1607 for x64-based Systems
Microsoft Windows Server 2016 for x64-based Systems
24
CVE-2017-0106
Remote Code Execution Vulnerability
Microsoft Outlook 2016 (64-bit editions)
Microsoft Outlook 2016 (32-bit editions)
Microsoft Outlook 2013 Service Pack 1 (64-bit editions)
Microsoft Outlook 2013 Service Pack 1 (32-bit editions)
Microsoft Outlook 2010 (64-bit editions) Service Pack 2
Microsoft Outlook 2010 (32-bit editions) Service Pack 2
Microsoft Outlook 2007 SP3 
25
CVE-2017-0199
Remote Code Execution Vulnerability
Microsoft Windows Vista x64 Edition Service Pack 2 0
Microsoft Windows Vista SP2
Microsoft Windows Server 2012
Microsoft Windows Server 2008 R2 for x64-based Systems SP1
Microsoft Windows Server 2008 R2 for Itanium-based Systems SP1
Microsoft Windows Server 2008 for x64-based Systems SP2
Microsoft Windows Server 2008 for Itanium-based Systems SP2
Microsoft Windows Server 2008 for 32-bit Systems SP2
Microsoft Windows 7 for x64-based Systems SP1
Microsoft Windows 7 for 32-bit Systems SP1
Microsoft Office 2016 (64-bit edition)
Microsoft Office 2016 (32-bit edition)
Microsoft Office 2013 Service Pack 1 (64-bit editions)
Microsoft Office 2013 Service Pack 1 (32-bit editions)
Microsoft Office 2010 Service Pack 2 (64-bit editions)
Microsoft Office 2010 Service Pack 2 (32-bit editions)
Microsoft Office 2007 Service Pack 3 
26
CVE-2017-0194
Memory Corruption Vulnerability
Microsoft Office Compatibility Pack SP2
Microsoft Excel 2010 Service Pack 2 (64-bit editions) 0
Microsoft Excel 2010 Service Pack 2 (32-bit editions) 0
Microsoft Excel 2007 SP3
27
CVE-2017-0195
Privilege Escalation Vulnerability 
 Microsoft Office Web Apps Server 2013 SP1
Microsoft Office Web Apps 2010 SP2
Microsoft Office Online Server 0
Microsoft Excel Web App 2010 Service Pack 2
Microsoft Excel Services on Microsoft SharePoint Server 2013 Service Pack 1
Microsoft Excel Services on Microsoft SharePoint Server 2010 Service Pack 2
28
CVE-2017-0204
Security Bypass Vulnerability
Microsoft Outlook 2016 (64-bit editions)
Microsoft Outlook 2016 (32-bit editions)
Microsoft Outlook 2013 Service Pack 1 (64-bit editions)
Microsoft Outlook 2013 Service Pack 1 (32-bit editions)
Microsoft Outlook 2010 (64-bit editions) Service Pack 2
Microsoft Outlook 2010 (32-bit editions) Service Pack 2
Microsoft Outlook 2007 Service Pack 3
29
CVE-2017-0197
Remote Code Execution Vulnerability
 Microsoft OneNote 2010 Service Pack 2 (64-bit editions)
Microsoft OneNote 2010 Service Pack 2 (32-bit editions)
Microsoft OneNote 2007 SP3
30
CVE-2017-0207
Spoofing Vulnerability
Microsoft Outlook 2011 for Mac 
31
CVE-2017-0155
Privilege Escalation Vulnerability 
 Microsoft Windows Vista x64 Edition Service Pack 2 0
Microsoft Windows Vista Service Pack 2 0
Microsoft Windows Server 2008 R2 for x64-based Systems SP1
Microsoft Windows Server 2008 R2 for Itanium-based Systems SP1
Microsoft Windows Server 2008 for x64-based Systems SP2
Microsoft Windows Server 2008 for Itanium-based Systems SP2
Microsoft Windows Server 2008 for 32-bit Systems SP2
Microsoft Windows 7 for x64-based Systems SP1
Microsoft Windows 7 for 32-bit Systems SP1
32
CVE-2017-0156
Privilege Escalation Vulnerability 
 Microsoft Windows Server 2016
Microsoft Windows Server 2012 R2
Microsoft Windows Server 2012 0
Microsoft Windows Server 2008 R2 for x64-based Systems SP1
Microsoft Windows Server 2008 R2 for Itanium-based Systems SP1
Microsoft Windows RT 8.1
Microsoft Windows 8.1 for x64-based Systems
Microsoft Windows 8.1 for 32-bit Systems
Microsoft Windows 7 for x64-based Systems SP1
Microsoft Windows 7 for 32-bit Systems SP1
Microsoft Windows 10 version 1703 for x64-based Systems
Microsoft Windows 10 version 1703 for 32-bit Systems
Microsoft Windows 10 Version 1607 for x64-based Systems
Microsoft Windows 10 Version 1607 for 32-bit Systems
Microsoft Windows 10 version 1511 for x64-based Systems
Microsoft Windows 10 version 1511 for 32-bit Systems
Microsoft Windows 10 for x64-based Systems
Microsoft Windows 10 for 32-bit Systems 
33
CVE-2017-0164
Denial of Service Vulnerability
 Microsoft Windows Server 2016
Microsoft Windows 10 Version 1607 for x64-based Systems
Microsoft Windows 10 Version 1607 for 32-bit Systems
34
CVE-2017-0159
Security Bypass Vulnerability
Microsoft Windows Server 2016
Microsoft Windows Server 2012 R2
Microsoft Windows 10 version 1703 for 32-bit Systems
Microsoft Windows 10 Version 1607 for x64-based Systems 
35
CVE-2017-0192
Information Disclosure Vulnerability
Microsoft Windows Vista x64 Edition Service Pack 2 0
Microsoft Windows Vista Service Pack 2 0
Microsoft Windows Server 2016 for x64-based Systems
Microsoft Windows Server 2012 R2 0
Microsoft Windows Server 2012
Microsoft Windows Server 2008 R2 for x64-based Systems SP1
Microsoft Windows Server 2008 R2 for Itanium-based Systems SP1
Microsoft Windows Server 2008 for x64-based Systems SP2
Microsoft Windows Server 2008 for Itanium-based Systems SP2
Microsoft Windows Server 2008 for 32-bit Systems
Microsoft Windows RT 8.1
Microsoft Windows 8.1 for x64-based Systems
Microsoft Windows 8.1 for 32-bit Systems
Microsoft Windows 7 for x64-based Systems SP1
Microsoft Windows 7 for 32-bit Systems SP1
Microsoft Windows 10 version 1703 for x64-based Systems
Microsoft Windows 10 version 1703 for 32-bit Systems
Microsoft Windows 10 Version 1607 for x64-based Systems
Microsoft Windows 10 Version 1607 for 32-bit Systems
Microsoft Windows 10 version 1511 for x64-based Systems
Microsoft Windows 10 version 1511 for 32-bit Systems
Microsoft Windows 10 for x64-based Systems
Microsoft Windows 10 for 32-bit Systems 
36
CVE-2017-0166
Privilege Escalation Vulnerability 
Microsoft Windows Vista x64 Edition SP2
Microsoft Windows Vista SP2
Microsoft Windows Server 2012 R2
Microsoft Windows Server 2012
Microsoft Windows Server 2008 R2 for x64-based Systems SP1
Microsoft Windows Server 2008 R2 for Itanium-based Systems SP1
Microsoft Windows Server 2008 for x64-based Systems SP2
Microsoft Windows Server 2008 for Itanium-based Systems SP2
Microsoft Windows Server 2008 for 32-bit Systems SP2
Microsoft Windows Server 2016
Microsoft Windows RT 8.1
Microsoft Windows 8.1 for x64-based Systems
Microsoft Windows 8.1 for 32-bit Systems
Microsoft Windows 7 for x64-based Systems SP1
Microsoft Windows 7 for 32-bit Systems SP1
Microsoft Windows 10 version 1703 for x64-based Systems
Microsoft Windows 10 version 1703 for 32-bit Systems
Microsoft Windows 10 Version 1607 for x64-based Systems
Microsoft Windows 10 Version 1607 for 32-bit Systems
Microsoft Windows 10 version 1511 for x64-based Systems
Microsoft Windows 10 version 1511 for 32-bit Systems
Microsoft Windows 10 for x64-based Systems
Microsoft Windows 10 for 32-bit Systems 
37
CVE-2013-6629
information Disclosure Vulnerability
Microsoft Silverlight 5 Developer Runtime when installed on Microsoft Windows (32-bit)
Microsoft Silverlight 5 Developer Runtime when installed on Microsoft Windows (x64-based)
Microsoft Silverlight 5 when installed on Microsoft Windows (32-bit)
Microsoft Silverlight 5 when installed on Microsoft Windows (x64-based)
Mono Framework Version 5.0.0.48
Windows Vista x64 Edition Service Pack 2
Windows Vista Service Pack 2
Windows Server 2016
Windows Server 2012 R2
Windows Server 2012
Windows RT 8.1
Windows 10 for 32-bit Systems
Windows 10 for x64-based Systems
38
CVE-2017-0189
Privilege Escalation Vulnerability 
Microsoft Windows Server 2016
Microsoft Windows 10 version 1703 for x64-based Systems
Microsoft Windows 10 version 1703 for 32-bit Systems
Microsoft Windows 10 Version 1607 for x64-based Systems
Microsoft Windows 10 Version 1607 for 32-bit Systems
Microsoft Windows 10 version 1511 for x64-based Systems
Microsoft Windows 10 version 1511 for 32-bit Systems
Microsoft Windows 10 for x64-based Systems
Microsoft Windows 10 for 32-bit Systems 
39
CVE-2017-0058
Information Disclosure Vulnerability
Microsoft Windows Vista x64 Edition Service Pack 2 0
Microsoft Windows Vista Service Pack 2 0
Microsoft Windows Server 2016
Microsoft Windows Server 2012 R2
Microsoft Windows Server 2012
Microsoft Windows Server 2008 R2 for x64-based Systems SP1
Microsoft Windows Server 2008 R2 for Itanium-based Systems SP1
Microsoft Windows Server 2008 for x64-based Systems SP2
Microsoft Windows Server 2008 for Itanium-based Systems SP2
Microsoft Windows Server 2008 for 32-bit Systems SP2
Microsoft Windows RT 8.1
Microsoft Windows 8.1 for x64-based Systems
Microsoft Windows 8.1 for 32-bit Systems
Microsoft Windows 7 for x64-based Systems SP1
Microsoft Windows 7 for 32-bit Systems SP1
Microsoft Windows 10 version 1703 for x64-based Systems
Microsoft Windows 10 version 1703 for 32-bit Systems
Microsoft Windows 10 Version 1607 for x64-based Systems
Microsoft Windows 10 Version 1607 for 32-bit Systems
Microsoft Windows 10 version 1511 for x64-based Systems
Microsoft Windows 10 version 1511 for 32-bit Systems
Microsoft Windows 10 for x64-based Systems
Microsoft Windows 10 for 32-bit Systems 
40
CVE-2017-0188
Privilege Escalation Vulnerability 
 Microsoft Windows Server 2016
Microsoft Windows Server 2012 R2
Microsoft Windows Server 2012
Microsoft Windows RT 8.1
Microsoft Windows 8.1 for x64-based Systems
Microsoft Windows 8.1 for 32-bit Systems
Microsoft Windows 10 version 1703 for x64-based Systems
Microsoft Windows 10 version 1703 for 32-bit Systems
Microsoft Windows 10 Version 1607 for x64-based Systems
Microsoft Windows 10 Version 1607 for 32-bit Systems
Microsoft Windows 10 version 1511 for x64-based Systems
Microsoft Windows 10 version 1511 for 32-bit Systems
Microsoft Windows 10 for x64-based Systems
Microsoft Windows 10 for 32-bit Systems 
41
CVE-2017-0191
Denial of Service Vulnerability
Microsoft Windows Server 2016
Microsoft Windows Server 2012 R2
Microsoft Windows Server 2012
Microsoft Windows Server 2008 R2 for x64-based Systems SP1
Microsoft Windows Server 2008 R2 for Itanium-based Systems SP1
Microsoft Windows RT 8.1
Microsoft Windows 8.1 for x64-based Systems
Microsoft Windows 8.1 for 32-bit Systems
Microsoft Windows 7 for x64-based Systems SP1
Microsoft Windows 7 for 32-bit Systems SP1
Microsoft Windows 10 version 1703 for x64-based Systems
Microsoft Windows 10 version 1703 for 32-bit Systems
Microsoft Windows 10 Version 1607 for x64-based Systems
Microsoft Windows 10 Version 1607 for 32-bit Systems
Microsoft Windows 10 version 1511 for x64-based Systems
Microsoft Windows 10 version 1511 for 32-bit Systems
Microsoft Windows 10 for x64-based Systems
Microsoft Windows 10 for 32-bit Systems
42
CVE-2017-0165
Privilege Escalation Vulnerability 
Microsoft Windows Server 2012 R2
Microsoft Windows RT 8.1
Microsoft Windows 8.1 for x64-based Systems
Microsoft Windows 8.1 for 32-bit Systems
Microsoft Windows 10 version 1511 for x64-based Systems
Microsoft Windows 10 version 1511 for 32-bit Systems
Microsoft Windows 10 for x64-based Systems
Microsoft Windows 10 for 32-bit Systems
43
CVE-2017-0167
Information Disclosure Vulnerability
Microsoft Windows Server 2016
Microsoft Windows Server 2012 R2
Microsoft Windows Server 2008 R2 for Itanium-based Systems SP1
Microsoft Windows RT 8.1
Microsoft Windows 8.1 for x64-based Systems
Microsoft Windows 8.1 for 32-bit Systems
Microsoft Windows 10 version 1703 for x64-based Systems
Microsoft Windows 10 version 1703 for 32-bit Systems
Microsoft Windows 10 Version 1607 for x64-based Systems
Microsoft Windows 10 Version 1607 for 32-bit Systems
Microsoft Windows 10 version 1511 for x64-based Systems
Microsoft Windows 10 version 1511 for 32-bit Systems
Microsoft Windows 10 for x64-based Systems
Microsoft Windows 10 for 32-bit Systems 
44
CVE-2017-0211
Privilege Escalation Vulnerability 
Microsoft Windows Server 2016
Microsoft Windows Server 2012 R2
Microsoft Windows Server 2012
Microsoft Windows RT 8.1
Microsoft Windows 8.1 for x64-based Systems
Microsoft Windows 8.1 for 32-bit Systems
Microsoft Windows 10 version 1703 for x64-based Systems
Microsoft Windows 10 version 1703 for 32-bit Systems
Microsoft Windows 10 Version 1607 for x64-based Systems
Microsoft Windows 10 Version 1607 for 32-bit Systems
Microsoft Windows 10 version 1511 for x64-based Systems
Microsoft Windows 10 version 1511 for 32-bit Systems
Microsoft Windows 10 for x64-based Systems
Microsoft Windows 10 for 32-bit Systems 

Microsoft's summary of the April 2017 releases can be found here:
https://portal.msrc.microsoft.com/en-us/security-guidance