In the March 2017, Microsoft has released 18 security bulletins. It addresses more than one thirty vulnerabilities. Among 18 bulletins, nine of them are rated as critical.
While classifying the vulnerabilities based on their severity, the medium rated vulnerabilities are much higher than high rated vulnerabilities.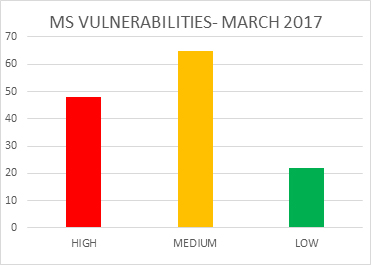 While classifying vulnerabilities based on their exploitability, we found that remotely exploited vulnerabilities are higher than the locally exploitable ones.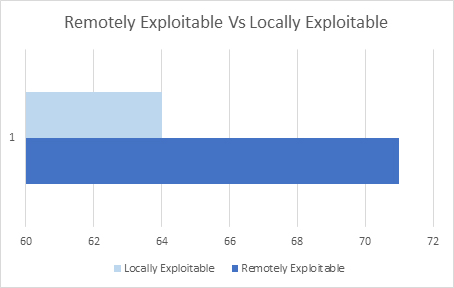 Another important classification is based on the authentication factor. In this month, vulnerabilities that requires authentication are much less compared to the vulnerabilities that does not required an authentication.



The following are the critical issues being addressed this month:

1. MS17-006 Cumulative Security Update for Internet Explorer (4013073) MS Rating: Critical
This security update resolves vulnerabilities in Internet Explorer. The vulnerabilities could corrupt memory in a way that could allow an attacker to execute arbitrary code in the context of the current user.

2. MS17-007 Security Update for Microsoft Edge (4013071) MS Rating: Critical
This security update resolves vulnerabilities in Microsoft Edge. The most severe of the vulnerabilities could allow remote code execution if a user views a specially crafted webpage using Microsoft Edge.

3. MS17-008 Security Update for Windows Hyper-V (4013082) MS Rating: Critical
This security update resolves vulnerabilities in Microsoft Windows. The most severe of the vulnerabilities could allow remote code execution if an authenticated attacker on a guest operating system runs a specially crafted application that causes the Hyper-V host operating system to execute arbitrary code.

4. MS17-009 Security Update for Microsoft Windows PDF Library (4010319) MS Rating: Critical
This security update resolves a vulnerability in Microsoft Windows. The vulnerability could allow remote code execution if a user views specially crafted PDF content online or opens a specially crafted PDF document.

5. MS17-010 Security Update for Windows SMB Server (4013389) MS Rating: Critical
This security update resolves vulnerabilities in Microsoft Windows. The most severe of the vulnerabilities could allow remote code execution if an attacker sends specially crafted messages to a Microsoft Server Message Block 1.0 (SMBv1) server.

6. MS17-011 Security Update for Microsoft Uniscribe (4013076) MS Rating: Critical
This security update resolves vulnerabilities in Windows Uniscribe. The most severe of these vulnerabilities could allow remote code execution if a user visits a specially crafted website or opens a specially crafted document.

7. MS17-012 Security Update for Microsoft Windows (4013078) MS Rating: Critical
This security update resolves vulnerabilities in Microsoft Windows. The most severe of the vulnerabilities could allow remote code execution if an attacker runs a specially crafted application that connects to an iSNS Server and then issues malicious requests to the server.

8. MS17-013 Security Update for Microsoft Graphics Component (4013075) MS Rating: Critical
This security update resolves vulnerabilities in Microsoft Windows, Microsoft Office, Skype for Business, Microsoft Lync, and Microsoft Silverlight. The most severe of these vulnerabilities could allow remote code execution if a user either visits a specially crafted website or opens a specially crafted document.

9. MS17-014 Security Update for Microsoft Office (4013241) MS Rating: Important
This security update resolves vulnerabilities in Microsoft Office. The most severe of the vulnerabilities could allow remote code execution if a user opens a specially crafted Microsoft Office file.

10. MS17-015 Security Update for Microsoft Exchange Server (4013242) MS Rating: Important
This security update resolves a vulnerability in Microsoft Exchange Outlook Web Access (OWA). The vulnerability could allow remote code execution in Exchange Server if an attacker sends an email with a specially crafted attachment to a vulnerable Exchange server.

11. MS17-016 Security Update for Internet Information Services (4013074) MS Rating: Important
This security update resolves a vulnerability in Microsoft Internet Information Services (IIS). The vulnerability could allow elevation of privilege if a user clicks a specially crafted URL which is hosted by an affected Microsoft IIS server.

12. MS17-017 Security Update for Windows Kernel (4010652) MS Rating: Important
This security update resolves vulnerabilities in Microsoft Windows. The vulnerabilities could allow elevation of privilege if an attacker runs a specially crafted application.

13. MS17-018 Security Update for Windows Kernel-Mode Drivers (4013083) MS Rating: Important
This security update resolves vulnerabilities in Microsoft Windows. The vulnerabilities could allow elevation of privilege if an attacker logs on to an affected system and runs a specially crafted application that could exploit the vulnerabilities and take control of an affected system.

14. MS17-019 Security Update for Active Directory Federation Services (4010320) MS Rating: Important
This security update resolves a vulnerability in Active Directory Federation Services (ADFS). The vulnerability could allow information disclosure if an attacker sends a specially crafted request to an ADFS server, allowing the attacker to read sensitive information about the target system.

15. MS17-020 Security Update for Windows DVD Maker (3208223) MS Rating: Important
This security update resolves an information disclosure vulnerability in Windows DVD Maker. The vulnerability could allow an attacker to obtain information to further compromise a target system.

16. MS17-021 Security Update for DirectShow (4010318) MS Rating: Important
This security update resolves a vulnerability in Microsoft Windows. The vulnerability could allow an information disclosure if Windows DirectShow opens specially crafted media content that is hosted on a malicious website.

17. MS17-022 Security Update for Microsoft XML Core Services (4010321) MS Rating: Important
This security update resolves a vulnerability in Microsoft Windows. The vulnerability could allow information disclosure if a user visits a malicious website.

Microsoft's summary of the March 2017 releases can be found here:
https://technet.microsoft.com/en-us/library/security/ms17-023.aspx